Sutton Tools is an Australian family business renowned for high-quality power tool accessories and cutting tools for the hardware market and a range of specialised industrial applications.
Sutton Tools has been working with Salesforce for almost 15 years and was one of the first Australian customers before they established a local office. Retailbiz spoke to Sutton Tools commercial director, Robert Sutton about the partnership and how Salesforce has supported the company's digital transformation journey.
"We always had a need for a better Customer Relationship Management (CRM) system. As a typical engineering manufacturing business, we were more focused on Enterprise Resource Planning (ERP), and didn't have the right sales and marketing solutions to meet our needs. Prior to partnering with Salesforce, our business was very transactional and engineering focused," Sutton told Retailbiz.
"Salesforce has supported us throughout our journey in advancing our business transformation. Initially, it was difficult to integrate with Salesforce due to limitations but as we've improved our own technology stack, it has become much easier."
Sutton Tools initially engaged with Salesforce for CRM but over time it has utilised a suite of products including Sales Service, Marketing Cloud, Analytics, and Experience Cloud. Most recently, Sutton Tools started using Commerce Cloud and most of its activity is now driven around e-commerce and B2B activity.
Sutton Tools has just upgraded its custom-built My Sutton Portal with an industry-standard e-commerce engine, which is a major part of the company's strategic plans moving forward.
"Being on the platform allows us to have seamless integration with all of these products. While it may appear expensive upfront, when you break down the products being used, you're only arguing the difference between using a competitor's product and having everything on the platform," he said.
"We're trying to differentiate ourselves from our competitors by providing customers with the best user experience by delivering real-time data and self-service models that make their lives easier."
Geographical expansion is a key priority
Sutton Tools is the only Australian manufacturer of industrial tooling products and a large percentage of the portfolio it produces is sold outside of Australia.
"Over time, we've developed our market presence in Asia and more recently in Europe. We want to grow our share and diversify risk from the Australian and New Zealand domestic markets where we produce our products," Sutton said.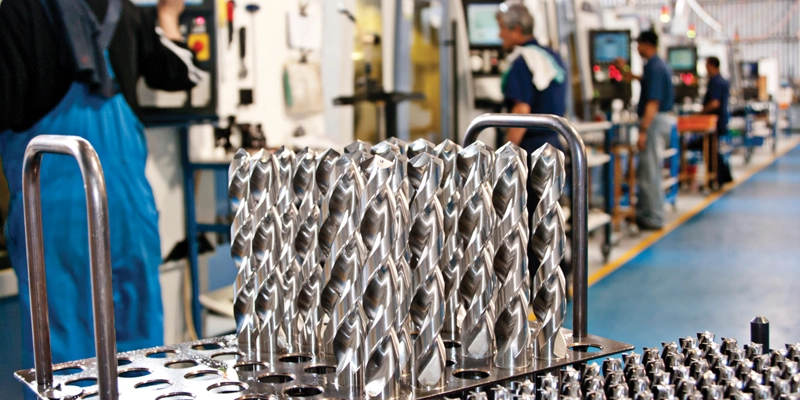 "We've had to tailor specific ranges for different regions around the world and establish an online presence to match that. A big driver behind the implementation of Commerce Cloud was the ability to provide more information, enable customers to purchase and self-serve, as well as automate our marketing to a wider audience, often with a different language or currency. This means our Australian marketing team can run promotions and communication campaigns with call to action for those markets easier and quicker."
User experience at the centre of growth
Sutton Tools was originally using an older technology stack and tried to integrate its ERP data with Salesforce. However, on-premise ERP software made it difficult to integrate but once the company moved to the cloud version and integration tools became available, that rapidly diminished.
"We've now got real-time data on stock orders and invoices, which increases productivity not only for our business, but also for our thousands of smaller, independent customers," Sutton said.
"Our latest portal is going live with Commerce Cloud and we are targeting over $500,000 in monthly sales because the user experience is much better and our customers receive richer data. It also means our customer service team is now an extension of our sales and marketing departments and they are becoming more of a proactive function beyond basic order entry or stock inquiries, which is now automated and available in real-time. They can see a far greater level of detail around product information including specifications and images."
Sutton Tools sells over 20,000 SKUs to the Australian and New Zealand markets, which requires a lot of product management and means customers are always requesting product data, so the company is transitioning to self-serve functions, providing customers with the ability to see the information they need.
"Internally, the benefits of the platform are significant. We've got a lot of processes and workflows that have been evolving over the last decade. By embedding analytics through the Snowflake Data Warehouse back into Salesforce, key customer metrics such as supply rates and purchase history are live. We've taken that approach and delivered it to our suppliers with the goal of providing a full suite of analytics built into Salesforce.
"Simple commercial processes that were daily frustrations in the past, like returning goods, is now an electronic workflow that customers can do, or salespeople can do on their behalf. It used to take six to eight weeks to process a credit, and now it takes less than a fortnight. The process is tracked throughout using Salesforce Marketing that uses a sophisticated set of journeys applied to specific customer groups in an automated way that is integrated within the platform."
Sutton Tools operates in a multi-channel and multi-brand environment so the flexibility to target particular channels or segments is key.
"It's an ongoing journey but we essentially have a full 360-degree view of the customer where a salesperson can see who they are, where they are, and their contact information, as well as visibility around customer service interactions, or case management, which is integrated from ERP data, in addition to embedded analytics around sales and service.
"One of the mistakes we made in the early days was not having the right technology stack – we did things the hard way. But we've got exciting plans moving forward and we will continue to engage with our partners to push these capabilities further. It's great to see these types of solutions that were historically only available at the big end of town becoming accessible other companies with the will and perseverance to do it," Sutton said.