Samsung Electronics Australia recently opened its Pro Display showroom at its headquarters in Sydney Olympic Park, designed to be a one-stop-shop customer and partner experience centre showcasing various display and software solutions spanning retail, hospitality, and business verticals.
Retailbiz was invited to the showroom for an exclusive tour with Samsung senior director and head of division of display and memory solutions, Phil Gaut (pictured above).
The Samsung Pro Display showroom facilitates demonstrations of the various displays to help businesses choose the right solution for their needs.
"Traditionally, our industry sells to the technology team within a retail organisation and it is a technology-based decision. But we believe the people you need to inspire are those who are going to use the displays. We are encouraging retailers to visit us and bring their own content so we can show them how it will look on different screens," Gaut explains.
"With our professional displays, we take the technology used in our consumer displays and professionalise it, such as the processors and hard drives. For instance, where consumer TVs are warranted for general consumer use, our professional panels are warranted for either 16 or 24 hours a day, seven days a week, designed for use in shopping centres and airport environments. As a result, cooling technology is imperative to professional displays to prolong the panel's lifecycle."
Sustainability is a core focus at Samsung – not only for the consumer product team but also the professional display division.
"Our screens are becoming thinner – our slimmest display has been reduced from 46mm to 27mm –which means we are using less material. Not only does this enhance the design and make it easier to install, but it is more environmentally friendly," Gaut says.
"With our packaging, we no longer use staples. Instead, we use glue and paper tape. We are also following a similar design IQ to the consumer team for remote controls, moving to solar-based technology and RF capture."
All-in-one software solution
In addition to manufacturing the displays, Samsung provides an end-to-end solution called MagicInfo that helps manage large networks of devices from one remote central location. Screens can be deployed all around the world and monitored from one single computer with the ability to turn on/off advertising, edit scheduling and customise content as required.
"There are two key elements to the software – the first is content creation and content delivery, and the second is fleet management. Clients like Westfield use MagicInfo to manage their entire fleet of thousands of screens around the globe," Gaut says.
"Samsung has increased the security capabilities of the software with the addition of two form factor authentication. It is safe, secure and ISO certified. MagicInfo is the first solution in the signage industry to acquire both ISO27001 and ISO27701 certifications.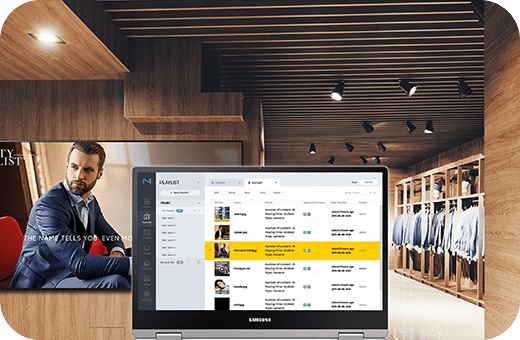 "Upon login, the MagicInfo dashboard tells you the health of your network; whether content is deployed as scheduled and if screens are on or off. You can customise user level preferences to limit functionality within teams – for example, making functions accessible to marketing versus IT administration.
"The software archives a library of the content that's been uploaded including images and video files. MagicInfo has a built-in web author that helps you create content for your display with the ability to customise templates for landscape and portrait orientations. A virtual remote control means you can monitor and drive into a screen virtually to make changes in real-time as if you were physically standing in front of the display.
"The MagicInfo software is completely scalable so it can be used by small retailers or large retailers, which means it's a one size fits all solution."
Investment in bricks-and-mortar
Retailers are investing in bricks-and-mortar and finding ways to draw shoppers back into stores, according to Gaut.
"We found a lot of businesses used lockdowns and restrictions during Covid to re-think their in-store experience and the theatre of retail has changed forever. People are viewing their stores differently – as a place where people come to validate their purchase decisions.
"Beyond experience and enjoyment, there is also a practical side to the deployment of screens with health concerns and staff shortages. Displays can help in both of those areas through self-service kiosks and interactive technologies."
Recent Futuresource data revealed that the total B2B large format display market grew 20% in 2022 and 30% in Q4 year-on-year.
"We are seeing a trend towards premium continuing to drive value in the marketplace. If people are looking to upgrade, they want a step-up from their current product. People are setting themselves up for the future by establishing a flexible retail canvas and seeing the benefits of digital landscapes to monitor sales trends," Gaut says.
"Retailers need to be nimble, quick, and adaptive. We are using technology to drive efficiency, lift conversion rates and increase footfall. It's a competitive landscape and stores need to stand out and be ahead of the curve. Ultimately, we've driven positive outcomes for businesses that have adopted our technology."
Serving up a new digital menu system for Krispy Kreme
Samsung helped Krispy Kreme improve marketing, operational and cost efficiencies by upgrading its digital menu signage in over 30 locations across Australia and New Zealand.
Krispy Kreme required durable, high bright outdoor screens and minimal glare indoor displays, making them easy to read. The ability to deliver menu items and price changes in a rapid, clear, and attractive way was crucial. The challenge was to changeover to a new digital menu system in just three months, with the least possible disruption to stores.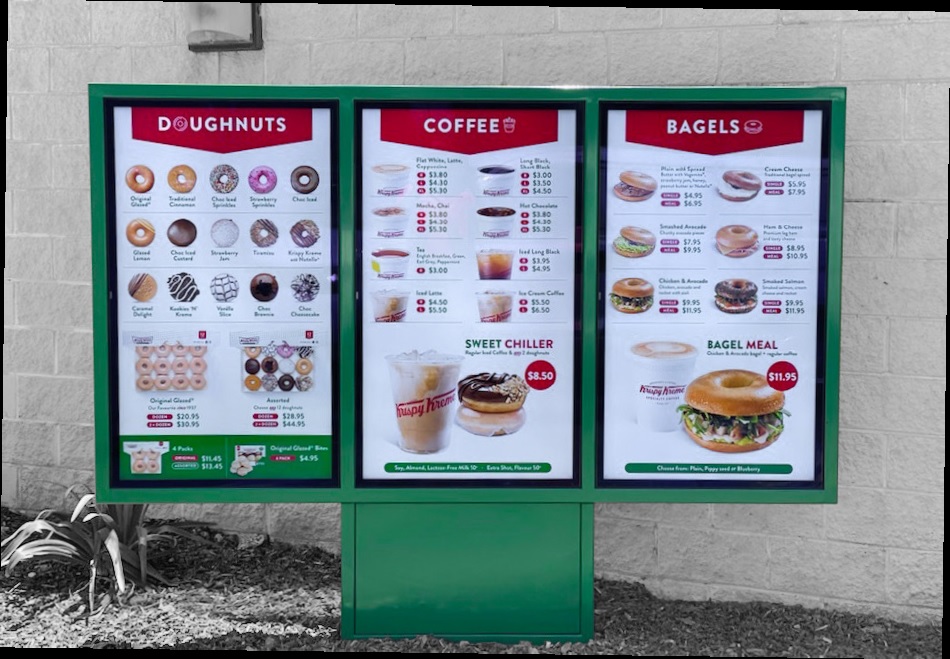 Krispy Kreme revamped its indoor menu boards and outdoor drive-through displays with Samsung QMR and OHF series screens. Samsung's built-in media players were integral in bringing Krispy Kreme's new menu system to life. The Tizen based media players integrate with Krispy Kreme's content management software enabling direct streaming of content to the display, reducing the need for additional external peripherals, or sending anything offsite. This ultimately reduced installation time and costs, while minimising potential points of failure in the future.
Lighting up flagship Lotte Duty Free store
Leading global luxury retailer for international travellers, Lotte Duty Free opened a new multi-level store in Sydney in 2022. The retailer collaborated with Samsung Pro Display to capture attention and drive foot traffic into their new store by installing double-sided digital displays in their front windows that can be seen day and night, from inside and outside the store. The displays needed to be large and bright with content visible even in sunlight.
Lotte Duty Free installed eight Samsung dual-sided window displays and a Samsung LED display. The dual-sided display's window facing screen offers 3,000 nit brightness for clear visuals even in peak sunlight, while the internal side's 1,000 nit brightness delivers information clearly. The displays are only 70mm wide and each side can simultaneously display different content.
The display's embedded MagicINFO Player S6 streamlines content management to easily update content as required.