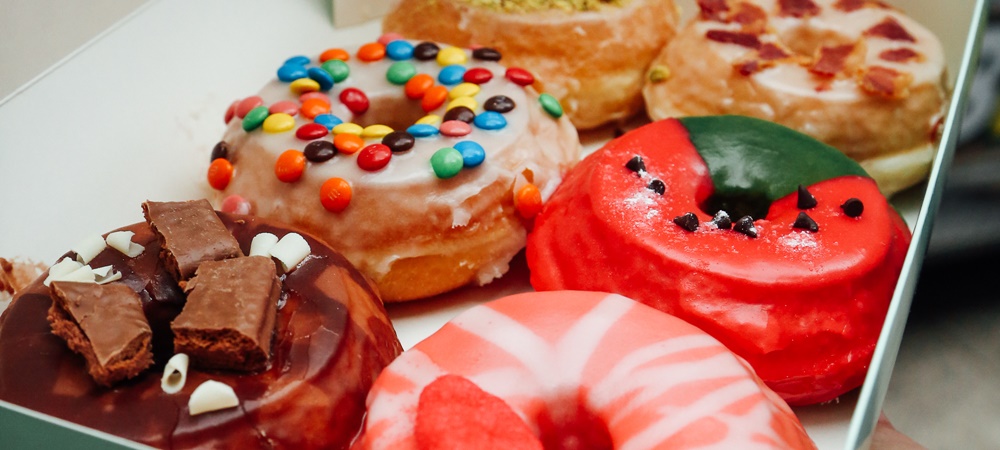 Since opening in 2015, Damian Griffiths' Doughnut Time has developed a cult following. Everything about the brand is made to shine on social media—from the giant, Nutella-filled and M&M covered doughnuts to the quirky hole-in-the-wall stores with their neon signs—and the store's 171K strong Instagram followers eat it up.
Doughnut Time's popularity isn't Griffiths' first taste of success. He is a well-known food entrepreneur and currently owns the Limes Hotel, Alfred & Constance Hotel, Alfredo's Pizzeria and Kwan Brothers, all located in the same precinct in Brisbane.
The company recently celebrated its 27th store opening—at Melbourne's Highpoint Shopping Centre—and shows no sign of slowing down. In fact the Besen family, who own the Highpoint Property Group, are now shareholders in the sweet treats empire. This partnership will provide Griffiths with the capital for continued expansion, which he hopes will see Doughnut Time head overseas.
Retailbiz caught up with Griffiths to discuss the trip to Chicago that started it all and the secret to his success. Read on to find out.
Why did you start Doughnut Time in 2015?
The original idea for Doughnut Time came when I was visiting Chicago and saw a line of people queuing up for doughnuts outside a tiny shopfront on a freezing cold day. That image really stuck with me.
We'd been making doughnuts for my cake shop (Chester Street Bakery) for a while and instinctively felt like the time was right to give them a standalone store between two of my restaurants, Kwan Brothers and Alfredo's.
What is your brand philosophy?
Doughnut Time is about all about the people; fresh doughnuts made and created by real people every step of the way. We have created a brand experience: from the unique flavours and names, to the iconic neon signs, the service, packaging and powerful marketing and activations.
You've grown extremely quickly—was this always the plan?
I had belief in the business we were undertaking from day one. It just felt like we had a simple business model that was backed up by a great product. When we began to tease out the opening of our first store on social media I didn't quite anticipate the huge reaction we would have from the public.
It turned out Brisbane had been crying out for these kinds of doughnuts! Once we'd established a foothold in the market here, we looked to Sydney and Melbourne (a much tougher nut to crack) and found that the bigger cities were willing to embrace the Doughnut Time brand with open arms.
What challenges have you faced with such quick expansion?
Finding the right balance with what I need to focus my energies on. I like to be involved in all aspects of the business (working with chefs, my marketing team, the operations team etc.) We now have 400+ employees working across all eight businesses (and we're growing rapidly), and I think it's still very important to be a hands-on boss who remains approachable and knows who his team are.
What have been the highlights of running Doughnut Time so far?
Working with my passionate and dedicated team who continually push each other to keep Doughnut Time the fun and exciting experience we always intended it to be. Seeing the marketing and activations come to life is always rewarding and handing out 1,000 inflatable doughnuts on Bondi beach is definitely a highlight!
What tips would you give to other retailers on running a successful business?
Be innovative and find creative ways to fully realise your concepts and products. You can have the best ideas on paper, but it doesn't count for anything unless you find ways to follow through and make them happen.
What's next for Doughnut Time?
We are going to keep opening stores where we think there's demand. We have plans to head over to Perth and we want to take the brand international. We live for challenges so it will be interesting to see where the next 12 months takes us.
Finally, what would you say is the secret to your success?
A lot of it is largely intuition, knowing what you think your customer wants and finding ways to make those ideas a reality. There's a lot I can attribute to past experience, being able learn from mistakes as well as having the passion to wake up and seize every single day.
Want the latest retail news delivered straight to your inbox? Click here to sign up to the retailbiz newsletter.