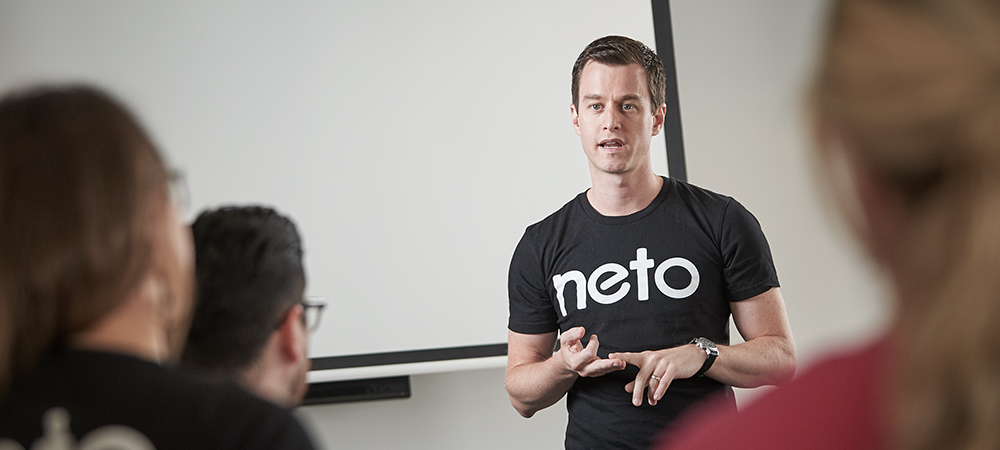 This story was sponsored by Neto.
It's official: Amazon.com.au is live and trading. With thousands of Australian businesses already selling on the platform, now is the time to decide whether you will compete on or compete with Amazon—ignoring the marketplace is not an option.
There is a wealth of knowledge available to help you make this decision, but the sheer amount of information can be overwhelming. To clear things up, we sat down with Neto CEO Ryan Murtagh to separate the fact from fiction when it comes to selling on Amazon.
It can't hurt to wait and see: FICTION
Although you may be tempted to wait and see the impact of Amazon before signing up, Murtagh says the best strategy is to get started straight away.
"Waiting is the worst thing you can do with a marketplace like Amazon," he says." If you're not in it you can't win it. There's no risk in trying and if it doesn't work you haven't lost anything. With platforms like Neto the cost to try is significantly reduced and the market opportunity is huge."
Amazon represents a great opportunity: FACT
In a recent Neto surveying online shopper, two thirds of respondents indicated they would shop on Amazon Australia. This presents a massive opportunity for small and medium businesses (SMBs) to access this vast, inbuilt customer base.
"I think there will be a new generation of SMBs that get their start and will catapult to success via Amazon," says Murtagh. "It's going to be a really great opportunity to use the Amazon Marketplace to leverage the Amazon brand and customers."
The marketplace is already too crowded: FICTION
Although Amazon is known for selling hundreds of millions of products in overseas markets, it has launched a brand new catalogue in Australia. This means that rather than entering an extremely crowded marketplace, local retailers have the chance to gain first mover advantage.
"I think a lot of retailers assume Amazon will have every product that's available in the States on the Australian platform, but they won't," explains Murtagh.  "Amazon has decided to start a fresh catalogue so there's not going to be as big a selection from day one."
This means it's important for local retailers to start selling as soon they can, in order to own the product registration for a particular SKU and start building seller history, which is crucial if you want to activate the lucrative Buy Box.
It's too hard to get started: FICTION
Murtagh says getting started on Amazon will be difficult if you don't have a service that automates your listings, stock control and pricing across all marketplaces, but with the right system in place it's not hard to get going.
It was running a retail business ten years ago that led Murtagh to start Neto, as he was selling through an online store, bricks-and-mortar and eBay, with no system to manage them all. "For every 100 new orders I would get a day, I had to hire another member of staff because of all the manual data entry—it was a nightmare." He went on to build the system he needed, and continues to innovate based on what his customers require.
For example, Neto has started using machine learning to automate the otherwise manual process of listing on a new platform. If you already sell on eBay and want to start on Amazon, with Neto's new platform you simply signup through Amazon Seller Central and enter your Amazon account credentials into the Neto system, which will then automatically map your inventory to existing Amazon categories and products.
If you have systems like this in place, there's no reason to be intimidated about getting started on Amazon.
Amazon is growing rapidly: FACT
The numbers surrounding Amazon are staggering. In the US, the ecommerce giant has about 43 per cent market share of total online retail, and this is growing. Murtagh says retailers should prepare to see a similar phenomenon here and need to decide whether they will compete on or compete with Amazon.
Amazon has also overtaken Google as the first place someone looks for a product in the US, which means it's important to list your products. "The future of retail is not necessarily a consumer going to a small business website, searching for a product, taking that to the cart and checking out," says Murtagh.
Lowest prices are always best: FICTION
While many believe Amazon is purely price driven and a race to the bottom, this isn't true. Instead, success often depends on the customer experience you offer.
"We have very successful customers selling a SKU on Amazon US that other retailers are selling; they're not the cheapest but their customer experience rating is the best, their fulfilment offering is the best and therefore they're wining the Buy Box."
Murtagh pointed to a Neto customer who sells around 20,000 units of a particular SKU on the Amazon US platform. "He's not the cheapest for that particular product but the second best retailer, who is cheaper for the same product, is selling fewer than 1,000 units."
Because selling on Amazon doesn't have to be about price, Murtagh says there is an opportunity for Australian retailers to focus on delivering great customer service rather than driving prices down.
"Retailers should put their heads together and focus on experience and value over price, because that will ultimately benefit everyone at the end of the day."
All you have to do is list your product: FICTION
There's a fine art to being successful on Amazon; it's not just a matter of listing your products and hoping they sell.
"A really important part is getting that first mover advantage and getting a sales history on a particular SKU so you rank better than your competitors if you are selling in a competitive category," says Murtagh.
Amazon is also review driven, which means it's important to have your back office in shape so you can offer an exceptional customer experience. Without a competitive returns policy and on time delivery, you won't last long.
"More than ever the impact of bad customer experience is going to be felt by retailers. That's why I'm excited about Amazon for consumers—it's going to raise the bar and everyone's going to have to step up."
Find out more about how Neto can help you sell on Amazon Australia and other online marketplaces. 
Get the latest on the art and science of retailing delivered straight to your inbox. Click here to sign up to the weekly retailbiz newsletter.