Ahead of Afterpay Australian Fashion Week (AAFW), Afterpay has partnered with Thread Together and #WeWearAustralian designers to unveil reCOUTURE, a project that reimagines the life of men's excess suits, recycling and repurposing the material into bespoke couture runway statement pieces.
Featuring designers including Ginger & Smart, Bianca Spender, ESSE Studio, Mariam Seddiq and Jordan Gogos, the one-of-kind garments were created entirely from excess stock of men's suits, with the full collection to be shown at the Afterpay x #WeWearAustralian multi brand show at AAFW on Friday 19 May.
Afterpay co-founder, Anthony Eisen (in feature image) said, "We are privileged to continue our partnership with Thread Together and some of Australia's leading fashion designers to shine a light on textile waste. Sustainability is not only a key focus for AAFW but also an issue Gen Z shoppers are focused on when looking to reduce their carbon footprint.
"It is our mission that through the bespoke pieces created for the Afterpay x #WeWearAustralian closing show, together with our additional donation to Thread Together, we drive meaningful awareness and impact, as well as showcase that sustainability is the future of fashion."
Thread Together CEO, Anthony Chesler commented, "The pandemic fundamentally changed expectations for Australian workers to physically be in the office, with remote working still being the norm for many, and this has impacted the clothing we wear day-to-day.
"Today, there are more men's suits available for redistribution than there is demand for these suits, with gentlemen more in need of essentials at the moment. We are thrilled to be able to highlight one of the most ethical pathways to keep clothing in circulation, at its highest value. Through our partnership with Afterpay, we look forward to shining a light on the importance of additional avenues for textiles in circularity, as we move to reduce excess stock from ending up in landfill."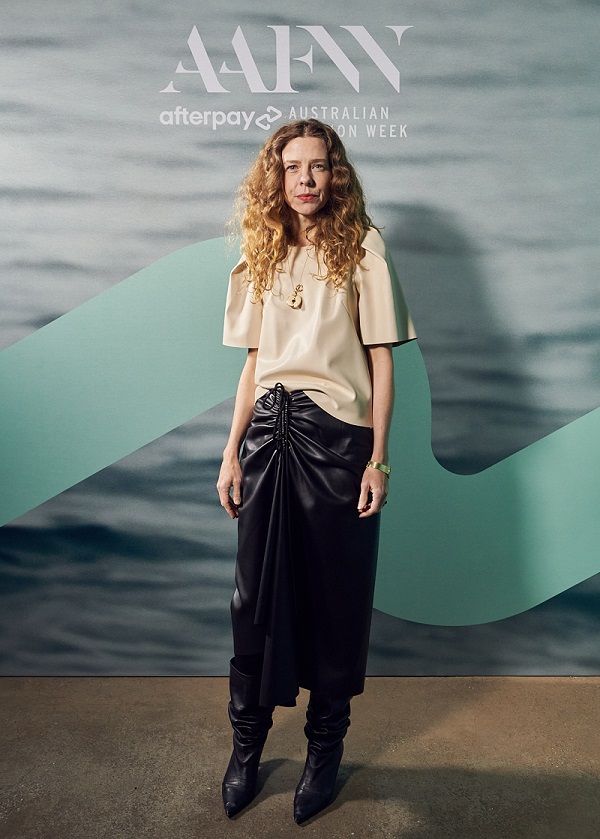 Passionate about sustainability and fashion, Bianca Spender founder and director, Bianca Spender (above) is excited about the reCOUTURE initiative as part of this year's Afterpay x #WeWearAustralian multi brand AAFW show.
"It is always inspiring to transform an object from something that is considered waste into a gem – it is like polishing a stone. I hope that this initiative propels people to be imaginative with excess clothing and help contribute to a better fashion future," she said.
To support the unveiling of reCOUTURE, Afterpay will donate a further $200,000 to Thread Together to support the charity in its mission to stop excess clothing stock from going to landfill, and provide all Australians in need with new clothing. In addition to Afterpay's donation, Afterpay is encouraging all Australians to donate to Thread Together and will have a QR code set up within The Hub at AAFW.