Aldi is a powerhouse that independent retailers have ignored for too long, allowing the supermarket to establish itself in the mind of the shopper as a destination beyond groceries.
The Aldi business model is straightforward: the retailer has a permanent range of classic grocery products, with approximately 1,000 product segments in the average store. The key difference from a normal supermarket is there is only one product in each segment. There may be different sizes but only one choice.
A good example is plain milk chocolate. Aldi carries only one brand (Choceur) and three sizes: 40g, 200g and 300g. Compare this to Woolworths, which has 13 brands and 20 sizes. The net result is Aldi has a far lower complexity to manage, which impacts its costs. Aldi stock turns are much higher due to the low number of products. Aldi sells less chocolate overall than Woolworths but enjoys a much higher return on investment. This is what powers Aldi's ability to deliver low prices.
The power of the weekly special
Low prices are important, but what really drives consumers to shop at Aldi are the weekly specials. This is a truly unique approach to the usual weekly specials from the big three. In addition to the 'normal' weekly specials on household items, Aldi offers a wide variety of merchandise not considered 'supermarket' lines at very cheap prices. And when I say cheap, I mean cheap. You can buy an electric jigsaw at Aldi for $29.99; Bunnings' best price is $69, a massive 56 per cent less.
What retailers must realise is that Aldi is building a model of very strong shopper loyalty in this way. This model will steal volume from nearly every other retail segment, not just supermarkets.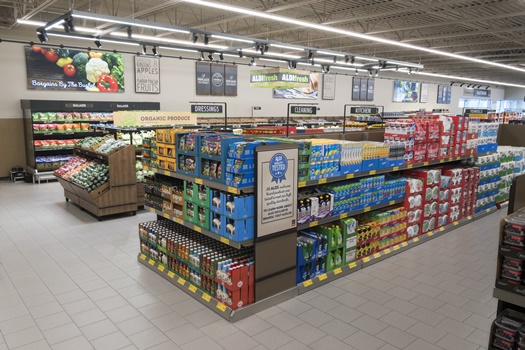 Take robotic vacuum cleaners for instance. This product is fast growing and generally prices start at $600. In Australia, Aldi retails a robotic vacuum cleaner for $179. The Aldi consumer loves this type of special—it's an exciting, new and unique product, at a great price so low risk and it's from ALDI so warranty and exchanges etc. are not an issue.
Aldi only has 19 stores open in Western Australia with plans to continue expanding. Assuming Aldi allocated 50 robotic vacuum cleaners to each store then it will sell only 950 units.
In New South Wales (NSW), however, it's a different story. Aldi has 240 stores with more being added. If we assume 50 vacuums per store, Aldi is selling 12,000 vacuums. This volume is coming from electrical retailers—it's product they're not selling.
In dollar terms, the numbers are even starker. Those 12,000 vacuums for Aldi in NSW are worth $2.2 million, but the value taken from electrical retailers is much greater as they sell these vacuums at $600 plus. Based on this, the electrical retailers in NSW lost $7.2 million in sales revenue. Lost sales to a discount supermarket…really?
And just in case you think Aldi is for economy shoppers, perhaps you need to look at Woolworths. It's not spoken about very much—it tends to be hidden away in analyst presentations—but Woolworths seems to have been hit hardest by Aldi. And Woolworths' shoppers are definitely not economy shoppers.
So what can independent retailers learn from Aldi? Can they compete? The answer is a resounding yes.
Do the basics well
Pricing: Aldi is the home of low prices. It tinkers with prices all the time. Keep your eyes open and match Aldi on price. There is no benefit in beating Aldi on price, but do not let your shoppers believe you are more expensive. This includes Aldi's weekly specials in any product group—don't allow Aldi space on price.
Branding: Aldi doesn't have brands. It's a private label operation. Drive your brands through in-store positioning, merchandising and availability. Brands will differentiate you from Aldi.
Customer service: Aldi doesn't do customer service. You need to bring your own bags and often have to go to another counter to pack. It's awkward. Make sure your store's customer service is delivering. Send in the secret shopper, survey your customers, and make sure your customer service is what your shoppers expect, want and value.
Differentiate yourself
Newness: Aldi loves new products. Not range extensions but real new products that it can use to position it stores as different. Aldi was the first to launch a pod coffee range, Expressi, outside the closed model of Nespresso. With Expressi, Aldi beat Woolworths, Coles… even pod coffee manufacturers. Aldi loves new, so you need to beat it to the punch. Get new products to market fast and merchandise 'new' brilliantly.
Assortment: Use your product assortment to differentiate your retail operation. Aldi cannot do assortments, its model will collapse. So use assortment strategically; width, depth and breadth of range is territory that Aldi cannot copy. Use strong brands to drive your assortment choices and Aldi will not be able to follow.
Experience: In-store experience is still king, and Aldi's in-store experience is functional at best. Know your shopper, know what they want and create an in-store experience for them. Think in terms of your five senses, and deliver an experience that delights shoppers. If you want convincing, just stand near a bakery that bakes on premise.
Aldi is a retail powerhouse so retailers need to get smart and defend their space. You have to out market them. And the really good news, if you can out market Aldi, your business will be all the better for it.
Michael Stafford has 20 years' experience helping multinational companies grow. He now works with small to medium sized businesses to help them expand at 6Seed.
Want the latest retail news delivered straight to your inbox? Click here to sign up to the weekly retailbiz newsletter.