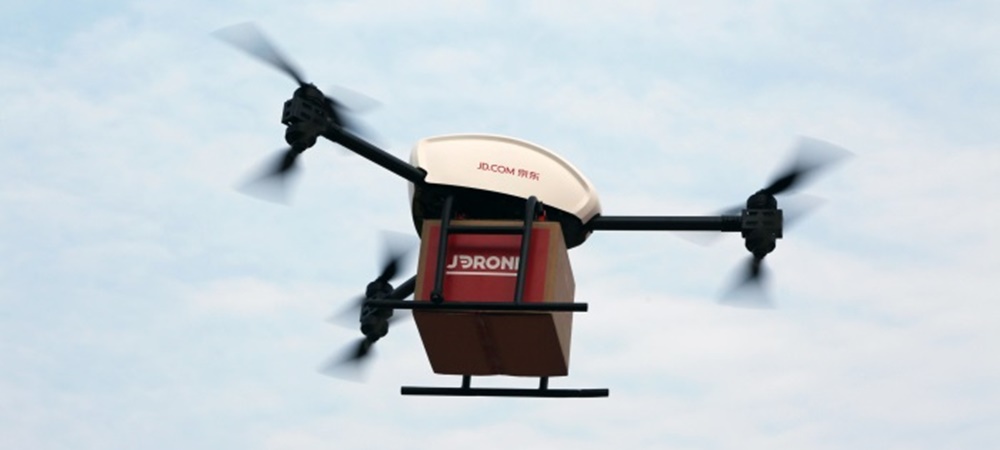 I've been reading a lot this week about the evolution of retail and the emerging technology that will change the industry.
One of the most interesting developments is the news that China's biggest online retailer by revenue, JD.com, is developing an extensive drone delivery network.
Covering a 300 kilometre radius, the network will include hundreds of routes and drone air bases throughout the northwestern Chinese province of Shaanxi.
The company said heavy-load drones will be used, which are expected to be able to carry more than a ton (over 900kg). They will transport consumer goods to remote areas and agricultural products to cities.
"We envision a network that will be able to efficiently transport goods between cities, and even between provinces, in the future," said Wang Zhenhui, CEO of JD Logistics.
JD.com currently has a network of automated fulfilment centres, warehouses and delivery stations across China, and says it services more than 236 million customers.
As the business grows it is increasingly focused on logistics technology, and launched a unit dedicated to this in April.
Speaking about the creation of the JD Logistics Business Group, chairman and CEO of JD.com Richard Liu said the aim is to redefine what consumers expect from ecommerce.
"Leveraging our unparalleled access to data from every step of the ecommerce process, from ordering to delivery and after-sales service, JD Logistics will use AI, big data and automation to once again redefine the potential of ecommerce logistics," he said.
In other news…
Will a robot steal your job?: New research from the US reports that 7.5 million retail jobs could be taken over by robots. Retail is an industry ripe for automation, from self-checkouts to inventory and stock control.
Airport retailing: The sky's the limit for airport retailing, which is no longer confined to cheap alcohol and cigarettes. We take an in depth look at the innovations and possibilities in this sector.
Why are so many retailers entering administration?: This is a question I've been asking myself all year, and in a new report, IBISWorld provides some answers.
Get personal: Our contributor this week is Paula Da Silva from CitiXsys, who discusses why personalisation—across all channels—is more important than ever. The bottom line? Your customers expect it.
The retail revolution: At the BLT Shopper Summit in Auckland, NZ recently six international industry experts gave insights into retail trends and innovations. We have some key takeaways.
Dark times inspire launch of online gift company: Looking for some good news this week? Read this story of how the death of Georgia Harley's father inspired her to create an ecommerce business that cares.
Want the latest retail news delivered straight to your inbox? Click here to sign up to the retailbiz newsletter.